Description:
Add Newest Vibration Modes - We have added a new vibration mode, which is basically a feature that no one else has. The vibration function can wake up your glans, so that your dick has enough hardness to insert and enjoy the massage. When the vibration factor is transmitted to the sensitive points on the penis, the veins will expand uncontrollably, and you will love this feeling!

9 Sucking Modes - The higher the gear, the harder you suck, the tighter your penis will be clamped, and you will lose yourself in sniffing and exhaling again and again.

Soft and Elastic Sleeve - The transparent TPE sleeve forms a very tight seal on the skin. There are 6 beads inside, composed of three different structures: particles, spirals and stripes. Their main task is to taste your glans, frenulum, and sensitive spots on the penis.

Continuous Suction Button - The design of this button allows you to get rid of the trouble of increasing the suction power all the time. It will slowly increase the suction power automatically, and you can stop it immediately when you feel the suction power is too strong. Of course, you can also control the suction button individually, and gradually increase to find the most suitable mode.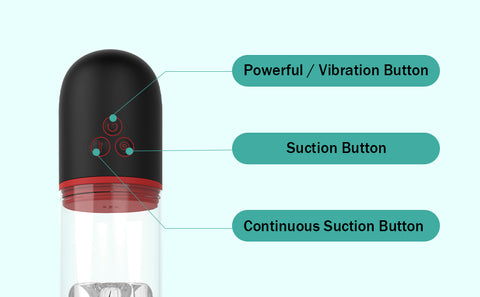 2-in-1 Design - This is not just a penis enlargement pump, but also a male masturbation cup. It can be used directly or with a liner. The sensory effects of the two different methods are also different. While helping you exercise penis endurance, it can also help you release your desires.

Transparent Shell and Scale - The transparent vacuum cylinder allows you to see your dick getting more and more erect under each squeeze, which greatly satisfies your desire for voyeurism. The precise scale design allows you to see exactly how swollen your dick is.

Easy to Clean - Remove the inner sleeves, wash the sleeves and shell with mild soapy water or toy cleansing fluid. Note that the main unit is not waterproof, please do not rinse under the tap.

Specification:
Material: ABS+TPE
Size: 12.4" in total length, 3.4" in width

Package included:
1 x Penis Pump
1 x USB Cable